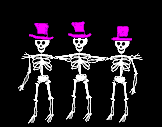 "....let it be known to you all, and to all the people of Israel, that by the name of Jesus Christ of Nazareth, whom you crucified, whom God raised from the dead, by Him this man stands here before you whole. This is the 'stone which was rejected by you builders, which has become the chief cornerstone.' Nor is there salvation in any other, for there is no other name under heaven given among men by which we must be saved." --- Apostle Peter speaking in Acts 4:10-12

"When Cross and Crescent Meet" is the title of a recent article in The Interpreter, a United Methodist Church publication. The cover featured a photo of a group of Muslim women having prayers at Heartsong United Methodist Church in Cordova TN. Imposed on the photo was the title of the article which details how United Methodists and Muslims in some areas have been getting together.
The central issue is whether a United Methodist Church is to permit any kind of activity whatsoever to take place within its walls, or is there a line to be drawn and a "No!" to be addressed to certain individuals or groups wanting to use the premises?
We pretty well know what the response would be if a group wanted to use the church for a beer party or someone wanted to turn the church into a brothel for an evening with some prostitutes on site doing business! Then again, with changing standards the past few years and the unthinkable now being acceptable, who knows what might happen further down the road?
The United Methodist Church Book of Discipline does contain information as to how a United Methodist Church is to be used. The basic standard is that no individual or group which advocates doctrines and teachings that conflict with the doctrines of the Christian faith should be permitted to use the premises of a local United Methodist Church.
The trust clause of each UMC underscores the fact that the property is to be used in such a manner as to honor God through His Son, Jesus Christ, as Savior and Lord. This is basic in our faith. Those who practice a lifestyle and adopt doctrines contrary to the mission and purpose of The United Methodist Church forfeit the right to make use of UMC property.
The picture of Muslim women having a prayer time in a United Methodist Church is in violation of stated use and purpose of a United Methodist Church. It is highly doubtful that they are praying to the God of Abraham, Isaac and Jacob through the Lord Jesus Christ, Who is God revealed in human form!
This is not to say that they are not welcome to attend a United Methodist Church worship service or other functions taking place within the church. The view must always be that these are people for whom Jesus Christ died on a cross to make forgiveness of sin possible. The motive must be to reach out in love to these folk in the name of our Lord Jesus but at same time not to convey the idea that their "religion" is as valid as Christianity. It definitely is not.
However, there are those who take the position that other religious expressions in the world are legitimate when it comes to addressing the issues of life, its purpose, and its eternal destiny. So, in that view, bring in whoever has some kind of deity or combination of deities (Hindu) and let them worship the same in a United Methodist Church, in spite of violating the standards for proper use of United Methodist Church property!
Christianity is a very radical faith when honestly viewed in light of Jesus' statements about Who He is and why He came into the world. The Gospel of John lists a number of His statements that begin with "I am..." In examining these claims one is forced to admit that Jesus allows for no other person or deity to do for us humans what He does. It is quite well summed up in His statement in John 14:6 -- "I am the Way, the Truth, and the Life. No one comes to the Father except through me." Not even Allah is given consideration here.
But equally radical is Jesus' statement about honoring God. Think a bit upon this one: "For the Father judges no one, but has committed all judgment to the Son, that all should honor the Son just as they honor the Father. He who does not honor the Son does not honor the Father who sent Him. Most assuredly, I say to you, he who hears My word and believes in Him who sent Me has everlasting life, and shall not come into judgment, but has passed from death into life." (John 5:22-24).
Only God is to be honored -- but when you honor Jesus, you are honoring God. On the other hand, if Jesus is merely a human being and nothing more, then to worship and honor Him is a vain and deadly act in which to engage.
All who claim to be Christian in faith also have to settle the issue of Jesus' parting commandment to go into all the world and preach the Gospel. Those who respond are to be baptized in the name of the Father, the Son, and the Holy Spirit. That commandment has not been rescinded. That means that all citizens in this world are to be confronted with the call to repent of sin and receive Jesus as Savior and Lord of their lives. There are Muslims who have become Christian in faith, though in many instances at a very high price. Likewise it is so with other religious expressions. I have a pastor friend in India who was a Hindu before becoming a Christian. In his congregation are persons who formerly were Hindus and Muslims, but are now dedicated Christians.
Muslims acknowledge the fact that historically, Jesus did really exist. They regard Him as a prophet but that is it. In fact He does not rank as high as Mohammed in their list of prominent persons in the world of Islam.
What to expect in the future? There are and will be the efforts to sit down to the table and "dialog" about religious issues. Again, the assumption will be that all participants have a legitimate claim to addressing the issues of life, its purpose and its eternal destiny.
So that leaves one who professes to be Christian in faith with a very critical question -- are these who are traveling the road of "dialog" right, or is Jesus Christ correct when He claims to be the exclusive way of salvation and hope -- absolutely the one and only, thus shutting out Allah, Vishnu, Shiva, and all other deities in whatever form they exist?
The Crescent must bow down before the Cross -- that is, if there is to be any hope for time and eternity! And why is this? Consider seriously and honestly the following statement and then do the same with Jesus' parting commandment when He left the surface of this planet 2,000 years ago........

Therefore God also has highly exalted Him and given Him the name which is above every name, that at the name of Jesus every knee should bow, of those in heaven, and of those on earth, and of those under the earth, and that every tongue should confess that Jesus Christ is Lord, to the glory of God the Father. --- Philippians 2:9-11

Then Jesus came and spoke to them, saying, "All authority has been given to Me in heaven and on earth. Go therefore and make disciples of all the nations, baptizing them in the name of the Father and of the Son and of the Holy Spirit, teaching them to observe all things that I have commanded you; and lo, I am with you always, even to the end of the age." Amen. --- Matthew 28:18-20