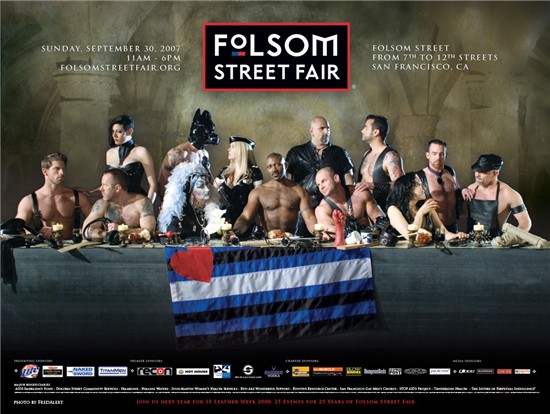 You have had a harlot's forehead; you refuse to be ashamed. --- Jeremiah 3:3b

You think you've heard or seen it all? Maybe you'll want to reconsider that!
Take a look at the above promotional poster for the Folsom Street Fair being held tomorrow in San Francisco. This happening is heralded as THE EVENT for same-gender couplers and their sympathizers who may be heterosexual in their orientation but campaign for the right to practice sodomy and lesbianism without restriction, etc.
The poster obviously is a mockery of the Last Supper which involved Jesus Christ and His disciples 2,000 years ago!
The gut-wrenching details on the Folsom Street Fair can be found in 2 articles from WorldNetDaily.com.
See
'Gays' mock Jesus with Last Supper take-off
. Subtitle to this article notes,
"Taxpayers subsidize event with nudity, orgies under watch of police."
Second article is titled,
Pelosi won't condemn 'gay' slur of Last Supper
Any further question in your mind that this is just another step toward the goal of forced acceptance by everyone of the practices of sodomy and lesbianism in the good old U. S. of A? And when the goal is reached, if you so much as object vocally you may well be charged with a criminal offense under some warped version of a "hate crimes" statute!

Blessed are those who do His commandments, that they may have the right to the tree of life, and may enter through the gates into the city. But outside are dogs and sorcerers and sexually immoral and murderers and idolaters, and whoever loves and practices a lie. --- Revelation 22:14,15