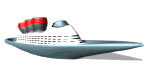 "She has much to offer but she is not ready to take on this assignment. This is too much too soon." --- In reference to Sarah Palin in words spoken by a conservative Episcopal leader as reported by Mark Pinsky in article titled, "Evangelicals' Palin Problem" in The United Methodist Reporter, October 24, 2008

Now for the full title of this piece:
The Captain of a Large Ship Is Better Qualified to Run the Ship If He Has Been Captain of a Couple of Other Ships Before, Rather Than Getting a Guy Out of the Boiler Room To Run It!
Interesting that this thing of being "qualified" to be president, in the event of something happening to the president while she is vice president, is the reason why Sarah Palin is being shot down again and again in the mass media, religious and secular.
Is that a smoke screen to hide the fact that it is her faith that is the real reason why she has been under siege constantly? The recent issue of Newsweek had an article by a couple of its crew which efficiently chopped Sarah into mincemeat over the issue of her faith.
Anyway, about that thing of having "experience" – it seems not to have dawned upon millions of people that Sarah Palin is more experienced in the area of an executive position than any other candidate. B.O. piddled around the Illinois legislature for a while – his most notorious legacy there was to stonewall attempts to protect unborn children in the late stages of pregnancy. And if, on a rare occasion, some should survive an abortion attempt, B.O.'s position is to not lift a hand to treat them – just let them die unattended – that guy is all heart, is he not? He is now a rookie U.S. senator with very limited experience in D.C. McCain and Biden have rattled around in the U.S. Senate for a number of years, but executive experience? Zippo – just playing politics in the Congress.
Sarah has been a mayor of a city and now governor of a state – did you note that? It means she hasn't been messing around in a legislative den somewhere dreaming up legislation to make a name for herself – she sits in an executive's chair!
But she has much more going for her – a personal acquaintance with God through Jesus Christ as Savior and Lord, which means she would seek guidance in fulfilling her responsibilities and is persuaded that this Lord she knows will give direction in the making of decisions and taking action. Few are the politicians who approach their responsibility in such a manner. We're supposed to leave God at church, didn't you know? Have you not heard of this damnable doctrine called, "separation of church and state?"
Little wonder much of those people in the mass media whose vision is so limited that they cannot see to the end of their noses and whose brains are so shrunk that a navy bean is huge by comparison, have done everything they possibly can to destroy Sarah Palin! She marches to the beat of a very different Drummer Whom they know absolutely nothing about.
Yes, indeed -- the captain of a large ship is better qualified to run the ship if he has been captain of a couple of other ships before, rather than getting a guy out of the boiler room to run it!
Ahoy! Captain Sarah – you can run it better than the guys in the boiler room – you've had EXPERIENCE!
Biographical details are available at Wikipedia - see
Sarah Palin
-- note executive experience! Use return feature on browser to come back here.

Behold what manner of love the Father has bestowed on us, that we should be called children of God! Therefore the world does not know us, because it did not know Him... Do not marvel, my brethren, if the world hates you.... You are of God, little children, and have overcome them, because He who is in you is greater than he who is in the world. They are of the world. Therefore they speak as of the world, and the world hears them. We are of God. He who knows God hears us; he who is not of God does not hear us. By this we know the spirit of truth and the spirit of error.... We know that we are of God, and the whole world lies under the sway of the wicked one. --- 1 John 3:1, 13; 4:4-6; 5:19