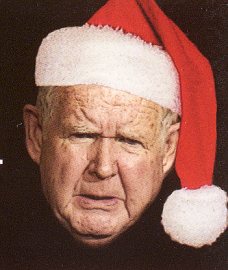 In tough economic times, John Murtha has been fighting for us. He has one of the strongest records in Congress on job creation and retention, and his work has resulted in nearly 20,000 new jobs and billions of dollars in economic development for Western Pennslyvania --- statement from campaign literature sent to residents of the 12th Congressional District of the Commonwealth of Pennsylvania on October 28, 2008 by Murtha for Congress Committee

Local news is saturated with political ads, including an overdose of John Murtha's bid to continue to hold his seat in the U.S. Congress. Letters to the editor of our local paper are bound to keep the editor moving at high speed in order to keep up -- all of us in the 12th District have determined by this time for which candidate we will cast our votes. Not one to stay out of the fray -- especially this one -- I sent an email message to the editor and staff of our local paper and a copy of that to our local TV station, WJAC TV in Johnstown. So here it is -- in case you are confused as to which candidate will get my vote, let me know -- I don't mind telling you on this one! By the way, the Johnstown Tribune-Democrat has endorsed Murtha for reelection -- for a lot of us who are residents in the 12th District, that did not come as an earth-shaking surprise!

Robin, Chip and Staff Members at the Tribune-Democrat:
The fact that John Murtha has stirred up bitter controversy in recent months is legitimate cause for questioning his reelection as congressional representative from the 12th District.
Two things involved here -- his growing arrogance over recent years and the very nature of what has sparked the controversies.
His careless and unfounded allegations about certain Marines being cold-blooded killers of innocent people and his references to constituents in his district and beyond as being "racists" and "rednecks" are more recent examples of that arrogance on display. He is a disgrace to the uniform he once wore, and I am not the only ex-Marine who feels that way.
He competes for the title of "#1 Porker" in the U.S. Congress and at last report is the most likely title holder in that department! Of course this is why he is so popular in one sense -- money talks and it provides guaranteed job security in Congress when you have a lot of power and clout -- Big John knows this very well.
But that leads to another question -- what will he and his fellow co-conspirator "porkers" do when the money is gone? They are doing absolutely nothing to reign in the mounting national debt. The "clock" I have on my blog at http://cdharriger.blogspot.com is moving toward 10 1/2 trillion dollars -- the few people with common sense (and that certainly doesn't include politicians) quickly conclude that this cannot continue much longer before disaster of unprecedented proportions strikes this republic!
Yes, John Murtha will likely be elected in spite of his arrogance, irresponsible statements made and irresponsible action on his part to further contribute to the mounting national debt.
John could walk in Central Park, step in doggy doo-doo, wipe it off with a paper towel and then wipe it across the faces of his constituents and they would still reelect him -- strange, strange world, is it not? Well, all of his constituents except for at least one. I have never voted for John Murtha from the time he first sought to fill the seat of his deceased predecessor back in the mid 70's until now and I never will.
Still contending at www.crrange.com, blogging at http://cdharriger.blogspot.com and warning at www.crrange.com/USACoffin.html
Clayton D. Harriger, Pastor, Gipsy Christian Church at http://www.crrange.com/gipsy.html
Former Sgt. United States Marine Corps
Non-affiliated registered voter in Cambria County
and Guest Editor at the Tribune-Democrat in September 2008 -- an underserved privilege for which I am very grateful.

Why do the nations rage, And the people plot a vain thing? The kings of the earth set themselves, and the rulers take counsel together, against the LORD and against His Anointed, saying, "Let us break Their bonds in pieces and cast away Their cords from us." He who sits in the heavens shall laugh; the LORD shall hold them in derision. --- Psalm 2:1-4