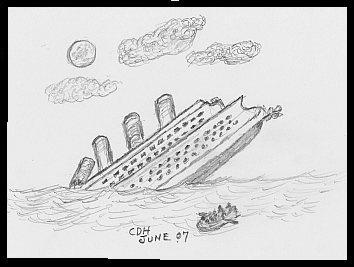 In the upper echelons of The United Methodist Church there is the view, although it would be publicly denied, that the denomination is a kind of unique breed of sacred cow. It fact its status is almost that of a deity for some persons and it is entirely out of order to do or say anything about the UMC in negative terms. We need to be "positive" and "upbeat" about it at all times -- after all, we are headed for the "promised land" and being part of the UMC is our guarantee that we'll soon occupy it!
There are still a few of us around who have a number of questions about what has been and is now going on in United Methodist Church circles. After nearly 50 years of ministry and holding the present status of ordained elder, I can say that drastic changes have taken place over the years and not for the better. What is being taught and advocated in many churches is highly suspect and legitimately questionable.
Hence the title question about comparing the RMS Titanic and The United Methodist Church. Spiritual "icebergs" with which the denomination has collided throughout recent decades are:


Unadulterated Unbelief


Disgusting Diversity


Cancerous Complexity


Damnable Dialog


Tragic Toleration


Lopsided Lamentation

Yes, there will likely be a chorus of voices crying, "Foul!" And, yes, a few of us dare to touch the sacred cow and once having done that, don our helmets and flak jackets, waiting for the return salvos to be lobbed in!
For the full details on each of those "icebergs," go to
RMS Titanic and The United Methodist Church -- An Apt Comparison???
-- a link at the bottom of that area will bring you back to this place.
And feel free to vent a bit when you return.