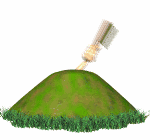 "And because lawlessness will abound, the love of many will grow cold." --- Matthew 24:12

For nearly half a century I have been in the work which God called me to do. There are three major things over that period of time concerning which I have never had any doubts whatsoever ----


That Jesus Christ extended love and mercy to me which I cannot fathom nor did I deserve and saved me from a sinful and destructive way of life.


That a few months after transforming my life God called me to a ministry of preaching and teaching His Word.


That His inspired Word (the holy Scriptures) is the infallible authority on all matters having to do with the Christian faith and the practicing of that faith in a world ravaged by sin of every possible kind!

There were times of trial over the years in which I felt like quitting the United Methodist Church for more "attractive" situations, or just shutting up and saying nothing.
But God never gave His approval to move to the more attractive settings and in regard to quitting or just keeping the mouth shut, He always reminded me of Jeremiah's experience as noted in Jeremiah 20:

O LORD, You induced me, and I was persuaded; You are stronger than I, and have prevailed. I am in derision daily; everyone mocks me. For when I spoke, I cried out; I shouted, "Violence and plunder!" Because the word of the LORD was made to me a reproach and a derision daily. Then I said, "I will not make mention of Him, nor speak anymore in His name." But His word was in my heart like a burning fire shut up in my bones; I was weary of holding it back, and I could not. For I heard many mocking: "Fear on every side!" "Report," they say, "and we will report it!" All my acquaintances watched for my stumbling, saying, "Perhaps he can be induced; then we will prevail against him, and we will take our revenge on him." But the LORD is with me as a mighty, awesome one. Therefore my persecutors will stumble, and will not prevail. They will be greatly ashamed, for they will not prosper. Their everlasting confusion will never be forgotten. But, O LORD of hosts, You who test the righteous, and see the mind and heart, let me see Your vengeance on them; for I have pleaded my cause before You. --- Jeremiah 20:7-12

Here's how it is – on basis of Jesus' warnings about the latter times of human history, we know it will be extremely trying times for Christians. Note the following as revealed by Jesus in Matthew 24:


onslaught of false teaching, which is what He kept emphasizing repeatedly

conflicts and wars constantly

convulsions in the earth's structure – an increase in frequency of the same

rampant diseases and famines

conditions duplicating those which were prevalent when Noah lived before the judgment of the flood and when Lot and his family lived in Sodom prior to it and Gomorrah being totally destroyed

international hatred for those who identify with and are committed to serving Jesus Christ

Perhaps one of the most shocking statements made by Jesus was the fact that due to rampant lawlessness the love of many will grow cold. (Matthew 24:12). Equally shocking was a question asked by Jesus when He said, "Nevertheless, when the Son of Man comes, will He really find faith on the earth?" (Luke 18:8).
The clear implication is that as human history comes down the homestretch prior to Christ's return, the pressure on Christians to give up or at least compromise their Bible based convictions will greatly intensify! Compromising one's faith is in reality a tragic "give up" experience!
For many, the beginning stage on the path to giving up will be to doubt that the Bible really means what it so plainly says regarding faith, responsibility and accountability to God.
Next, evil is so widespread and so entrenched we conclude that there is nothing we can do – if you can't beat 'em, then you might as well join 'em! Again, compromise seems to be the convenient way to handle this dilemma!
Consequently the devil throws another dance in the street with the Hell-bound demon hoards screaming with joy and delight – another Christian has yielded to the pressure to give up.
Where do you presently stand in all this? Are you still in the war fighting the good fight of faith?

"He who overcomes shall be clothed in white garments, and I will not blot out his name from the Book of Life; but I will confess his name before My Father and before His angels....To him who overcomes I will grant to sit with Me on My throne, as I also overcame and sat down with My Father on His throne." --- Revelation 3:5, 21

I have fought the good fight, I have finished the race, I have kept the faith. Finally, there is laid up for me the crown of righteousness, which the Lord, the righteous Judge, will give to me on that Day, and not to me only but also to all who have loved His appearing. --- 2 Timothy 4:7,8