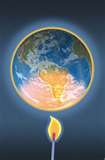 For it is written: "I will destroy the wisdom of the wise, and bring to nothing the understanding of the prudent." Where is the wise? Where is the scribe? Where is the disputer of this age? Has not God made foolish the wisdom of this world? For since, in the wisdom of God, the world through wisdom did not know God, it pleased God through the foolishness of the message preached to save those who believe. --- 1 Corinthians 1:19-21

References to the fact that Barack Obama is smart, brilliant and all those other terms which define a high level of intelligence have been applied to the president in recent days as the nation he is attempting to lead finds itself in great turmoil for many reasons.
Even persons who are high profile in the mass media and who claim to be "conservative" or beyond in their position on issues of the day are making reference to the president's supposed "brilliance."
But one main thing is missing – it's like the missing cornerstone in a building's foundation or the main drive wheel missing in a machine or the main spring being absent in a clock. With that being the case, commonsense tells us that it just isn't workable – there is failure, pure and simple!
Lots of smarts do not guarantee success – oh, at times it may appear so, but eventually things happen in such a way that whatever venture was attempted by the person with all those "smarts" eventually ends in failure! God has plainly revealed a lot about the kind of "smarts" which make the difference in life – whether one will be successful or one will miserably end up a failure. Is anyone so foolish as to believe he or she can improve upon the formula given us in the following statements?

For the LORD gives wisdom; from His mouth come knowledge and understanding; He stores up sound wisdom for the upright; He is a shield to those who walk uprightly; He guards the paths of justice, and preserves the way of His saints. Then you will understand righteousness and justice, equity and every good path. When wisdom enters your heart, and knowledge is pleasant to your soul, discretion will preserve you; understanding will keep you, to deliver you from the way of evil, from the man who speaks perverse things, from those who leave the paths of uprightness to walk in the ways of darkness; who rejoice in doing evil, and delight in the perversity of the wicked; whose ways are crooked, and who are devious in their paths; to deliver you from the immoral woman, from the seductress who flatters with her words, who forsakes the companion of her youth, and forgets the covenant of her God. For her house leads down to death, and her paths to the dead; none who go to her return, nor do they regain the paths of life; so you may walk in the way of goodness, and keep to the paths of righteousness. For the upright will dwell in the land, and the blameless will remain in it; but the wicked will be cut off from the earth, and the unfaithful will be uprooted from it. My son, do not forget my law, but let your heart keep my commands; for length of days and long life and peace they will add to you. Let not mercy and truth forsake you; bind them around your neck, write them on the tablet of your heart, and so find favor and high esteem in the sight of God and man. Trust in the LORD with all your heart, and lean not on your own understanding; in all your ways acknowledge Him, and He shall direct your paths. --- Proverbs 2:6-3:6

At certain points in reading through the above, do visions of politicians in Washington DC and the state capitols of this republic come into your mind? You know, statements such as those who "rejoice in doing evil, and delight in the perversity of the wicked, whose ways are crooked?"
President Obama, in spite of his "smarts," has produced no evidence of possessing a healthy and reverential fear of Almighty God in the discharge of his responsibilities. Not one word has been reported that he and his family have established a disciplined pattern of public and private worship in their lives, which violates the clear teaching of Christianity in the New Testament. This is critical in setting an example for others and as a personal witness to a living faith centered in Jesus Christ as Savior and Lord. There is absolutely no way a person who claims a faith which identifies with Christianity can dodge this responsibility!
Further, there is no evidence that the will of Almighty God is sought in major decision-making moments which impact the lives of 306 million persons in the United States not to mention those in other nations of this chaotic world.
Worst of all is the attitude that human life in its developing stages is a disposable commodity and we can wipe out thousands a week as often as we choose because we have a "right" to do so! A person who has "smarts" which have been imparted by the Spirit of God would not be so foolish nor so stupid to adopt such an approach which guarantees the certain displeasure of Almighty God!
It boils down to this – it is possible to gain "smarts" in life through study, be awarded college and graduate degrees with high honors, impress the world with communication ability and do leadership activities which win rave reviews from ardent devotees in the mass media but still miserably flunk out and fail in the long run!
There is a great difference between what is labeled the "wisdom of this world" and that which is the wisdom imparted to an obedient follower of Jesus Christ through His Spirit! This difference becomes quite obvious when it comes to those who hold positions of leadership at the highest levels of governments all over the world!

Wisdom calls aloud outside; she raises her voice in the open squares. She cries out in the chief concourses, at the openings of the gates in the city she speaks her words: "How long, you simple ones, will you love simplicity? For scorners delight in their scorning, and fools hate knowledge. Turn at my reproof; Surely I will pour out my spirit on you; I will make my words known to you. Because I have called and you refused, I have stretched out my hand and no one regarded, because you disdained all my counsel, and would have none of my reproof, I also will laugh at your calamity; I will mock when your terror comes, when your terror comes like a storm, and your destruction comes like a whirlwind, when distress and anguish come upon you. "Then they will call on me, but I will not answer; they will seek me diligently, but they will not find me. Because they hated knowledge and did not choose the fear of the LORD, they would have none of my counsel and despised all my reproof, therefore they shall eat the fruit of their own way, and be filled to the full with their own fancies. For the turning away of the simple will slay them, and the complacency of fools will destroy them; but whoever listens to me will dwell safely, and will be secure, without fear of evil." --- Proverbs 1:20-33