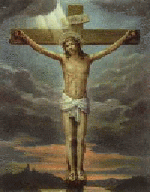 BIRMINGHAM, Alabama — Alabama Gov. Robert Bentley told a church crowd just moments into his new administration that those who have not accepted Jesus as their savior are not his brothers and sisters, shocking some critics who questioned whether he can be fair to non-Christians. --- from AP release on the Internet

It was bound to happen with remarks such as the new governor of Alabama has made about non-Christians not being brothers or sisters to him. It is true, of course, and in spite of a barrage of objections and accusations spewing forth from the non-Christian crowd this man will approach his responsibilities with greater sensitivity and greater wisdom than will his non-Christian counterparts.
The objections come because non-Christians do not understand how it is in the life of a person who has accepted Jesus Christ as Lord and Savior of his/her life. What it means is that God is now dwelling in the life of that person in a special way -- a term used in Scripture is that a Christian becomes a temple of God -- that is, God takes up residence in the life of the follower of Jesus Christ. This is referenced from time to time in the New Testament.
There is a life transformation experience going on, starting with the beginning decision to repent of all sin, ask God's forgiveness, and receive Jesus Christ as Savior and Lord. There is daily intereaction between the believer and the Lord Jesus Christ. There is a seeking of His will to be done, which will always be best for all concerned.
And how about the relationship to non-Christians? It matters not whether one is a governor, a president, member of a legislative body, a judge, or an average citizen walking the streets with an ordinary and very average type of employment -- there is a new dimension which involves love and compassion which non-Christians do not have and can not experience until they too come to know Jesus Christ!
The directive in Scripture on this is that ALL persons are to be loved by the obedient Christian and no prejudice is to be shown. James in his short letter in the New Testament is one who mentions this issue of showing prejudice and it is absolutely forbidden in the Christian faith.
But as mentioned previously, the non-Christian cannot understand this even a bit, and when remarks are made such as those by the new governor of Alabama, then they immediately load their verbal cannons and begin firing. They will find, however, if they are in his presence and involved in any decisions that he makes, that they will be treated far, far better than they would be by a governor who is not a Christian! And that goes across the board when it comes to a president, a member of a legislative body, or a judge as well!
Consider these statements as written by the apostle Paul in Romans 8:8-17 of the New Testament::

So then, those who are in the flesh cannot please God. But you are not in the flesh but in the Spirit, if indeed the Spirit of God dwells in you. Now if anyone does not have the Spirit of Christ, he is not His. And if Christ is in you, the body is dead because of sin, but the Spirit is life because of righteousness. But if the Spirit of Him who raised Jesus from the dead dwells in you, He who raised Christ from the dead will also give life to your mortal bodies through His Spirit who dwells in you. Therefore, brethren, we are debtors; not to the flesh, to live according to the flesh. For if you live according to the flesh you will die; but if by the Spirit you put to death the deeds of the body, you will live. For as many as are led by the Spirit of God, these are sons of God. For you did not receive the spirit of bondage again to fear, but you received the Spirit of adoption by whom we cry out, "Abba, Father." The Spirit Himself bears witness with our spirit that we are children of God, and if children, then heirs; heirs of God and joint heirs with Christ, if indeed we suffer with Him, that we may also be glorified together.

God has promised His grace to those who trust Him for every challenge they meet along the way in life's journey in this world. May Governor Robert Bentley of Alabama experience the reality of this promise each day he holds office and may those who have verbally assaulted him have their eyes opened and to behold the fact that Jesus Christ died for them just as He did for the governor, and then make the right decision that they too will become his "brothers and sisters" in the Christian faith!

For the message of the cross is foolishness to those who are perishing, but to us who are being saved it is the power of God. For it is written: "I will destroy the wisdom of the wise, and bring to nothing the understanding of the prudent." Where is the wise? Where is the scribe? Where is the disputer of this age? Has not God made foolish the wisdom of this world? For since, in the wisdom of God, the world through wisdom did not know God, it pleased God through the foolishness of the message preached to save those who believe. --- 1 Corinthians 1:18-21