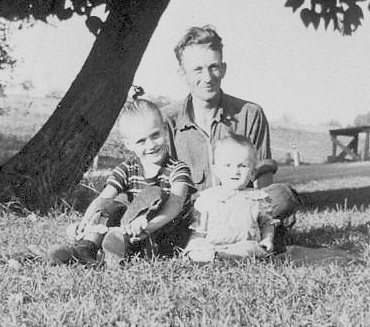 Picture of Russell F. Harriger with daughter, Connie, and son, Clayton, about the year, 1940, on a rented farm in Monroe Township, Clarion County, Pennsylvania.

Russell F. Harriger was of German and Dutch ancestry. I have always been thankful that the last name was "Americanized" because, having seen the original, I know I probably would not be able to pronounce it and would certainly struggle to spell it.
My dad had those qualities that are too often sadly missing in today's world and the quality of life in our culture often reflects the reality of that in these very unsettled times.
From my earliest memory of dad I learned quickly that he was a hard worker at anything he ever did. His dream was to own his own farm and the hard work eventually paid off. The picture above was taken on the farm that he and my mother rented for a time. Then they entered into an agreement with a cousin of dad to live on the cousin's farm. This happened during the WW II years. The rented farm had no electricity. Our lights were gas with what was called a mantle attached over the fixture. They created a kind of eerie glow while ignited. We did not have a radio. There was no indoor plumbing. When we moved into the house on the cousin's farm we had electricity, a radio, and a hand pump at the sink for drawing water.
During this time my dad was working on the section gang of the New York Central Railroad. His dream was still to buy and own his own farm. Finally early in 1946 it happened -- my folks had managed to save enough money to make a down payment and get the farm. It was the one they originally had rented. The price paid for that farm was $4,600.00. We moved back into a house that now had electricity and a water pump system. But there was no bathroom. The bath was still taken in a galvanized tub and the little "outhouse" was where you went for "relief." Out of date Sears & Roebuck catalogs provided our toilet paper in abundance. Montgomery & Ward also assisted in maintaining this important inventory!
My dad was a man of honesty and deep conviction when it came to issues of right and wrong. He was definitely a "black and white" person -- there was no hazy gray area when it came to issues with him -- it was clearly right or clearly wrong and he would never compromise on his convictions.
He was also quite clear as to his stand on political issues. He believed that every citizen should vote and he did so in every election he could.
Dad was a man of faith and believed in prayer. He always said the prayer before we ate our meals. He and my mother were deeply involved in our church in a variety of ways. Dad did confess that he could never teach a Sunday School class, but when it came to manual work that needed done in some form around the church, he would be there and always ready to go to work.
He had a sense of humor and it was the kind that could be shared in mixed company without embarrassment. He had no time for the off color brand and was never amused when someone may dredge something up out of the gutter. He also never used foul language of any kind. In fact I never heard him use expressions that have their roots in profanity such as "dang," "darn," "gosh, "gee," "gee whiz," etc. His language was simple and you had no trouble understanding what he was talking about.
My dad dropped out of school in the sixth grade. And at that young age began working on his dad's farm as well as helping neighbors. He told me once of earning 50 cents a day -- a day that involved long hours. This rate of pay from an uncle involved plowing fields with a team of horses and walking behind a plow! If I recall correctly, he was 13 years of age when he did such work.
About the time I was born my father became a member of the school board for Monroe Township in spite of never having completed even grade school. He continued in that position for some time after I had graduated from high school. A major change took place during those years with the closure of the one room schools in Monroe Township and merger with the Clarion school district. A picture in my high school yearbook shows the school board for that year and my dad was one of the members of that board!
He was a disciplinarian and made clear to my sister and me what was expected of us in terms of behavior. Get out of line and we were punished. Sometimes I learned the hard way -- that when my dad had said how it was to be and I did not listen, I then paid a high price. But I never violated his word again in that area in which I had experienced his "judgment!"
To save money, he bought hair clippers and would cut my hair. He and a cousin would "trade haircuts" as they called it. Each would cut the other's hair on a regular basis. All this went rather well until the time came when the clippers got a bit worn and dull -- then instead of cutting all the hair, some didn't get cut and when he pulled the clippers away, those few hairs got pulled out by the roots! You can understand why I did not look forward to those times when my dad said it was time for a haircut. By that time he was going to a regular barber in Clarion.
His love for us was also demonstrated in many ways time after time. An early memory was when he and mom had gotten me a pair of rubber boots. I was about 4 years old at the time. It was in early spring of the year and our barnyard was really a quagmire. I had to try out the boots -- I waded into the barnyard a few steps and began to sink -- the more I tried to get a foot out, the other went deeper into the mud. In desperation, I cried out and my dad was near enough that he heard that frantic call for help. He came and lifted me out of that mud. What a relief! I have used this from time to time as an illustration as to how Jesus Christ came into this world to rescue us from the quagmire of sin, setting us free and making possible forgiveness and assurance of eternal life with Him forever.
Dad was just a few weeks past the age of 84 when he went to be with the Lord. We felt our loss was Heaven's gain and look forward to the moment when we shall be reunited in the presence of our Lord Jesus forever.
Thanks, dad, for the many ways you were a blessing and an inspiration to my sister and me over the years -- even though there were some of those times we did not recognize you to be the example and teacher you really were. It was only later in time that I recognized you were far more intelligent than I gave you credit for when I was in my rebel teen years.

And you, fathers, do not provoke your children to wrath, but bring them up in the training and admonition of the Lord. --- Ephesians 6:4