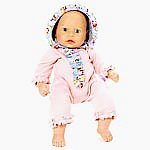 "For My people are foolish, they have not known Me. They are silly children, and they have no understanding. They are wise to do evil, but to do good they have no knowledge." --- Jeremiah 4:22

There was a time when a doll was a doll. A miniaturized form of a human being -- man, woman, boy or girl which was a favorite toy of children in their very young years.
At points along the way in time dolls became a bit more sophisticated. Some dolls were produced which became collectors' items. Female dolls were adorned with expensive gowns, etc.
War times resulted in production of what was known as G. I. Joe figures with a lot of accessories enabling boys to engage in combat situations with G. I. Joe, his jeep and weapons.
Even professional sports got into the act with dolls produced in the likenesses of big name players. Certain names now bring a hefty price on the eBay market!
With the "sexual revolution" (the adoption of a philosophy which says, "Sex is fun with anyone or more than one anyone at the same time, anywhere and at any time!") which began in the 60's came a new kind of "doll" on the scene -- the sex doll. First models were somewhat crude -- the inflatable models made of plastic such as a blow up Easter bunny and were often given as gag gifts.
Due to demand and developing technology the sex doll has made great strides forward -- sort of like the progress made from the Wright brothers' cumbersome flying machine to our modern space shuttle!
A recent program by BBC was titled, "Love Me, Love My Doll." It featured some men who have the latest in sex dolls. One of these guys actually had a number of these lifeless females around his house!
These dolls are made of silicone which very closely resembles human flesh in texture and color. There are models which have PVC skeletons and metal joints. The great feature is that they are "anatomically correct" which means they become a sexual partner because the man is unable to have a live human female partner!
The dolls average over 5 feet in height and weigh about 100 pounds. They can be custom ordered according to preference of the customer -- hair color, eye color, breast size, skin color, etc.
Prices can range from $1,295 to $6,500 and zooming to $10,000 depending on the sophistication and special "features" of the doll! And business is booming according to manufacturers in the business at the present time.
In one place in the world the prostitution business is being threatened as zealous entrepreneurs have set up shop -- for a fee you can rent a doll in a private room and indulge your sexual fantasies!
Oh yes, women have not been excluded in the doll evolution -- instead of buying an 18 inch doll with a porcelain head and dressed in a Victorian gown to add to your growing collection, you can buy a 6 foot silicone "anatomically correct" male according to your personal preferences and exact specifications!
As we in this world continue to carnally abuse the sacred gift of human sexuality which our Creator has given us, how long do you think it will be before He says, "Enough is enough!", and begins to do some things which will quickly remind the members of the human race that the price for making bad choices and engaging in wicked behavior is extremely high!


Do not be deceived, God is not mocked; for whatever a man sows, that he will also reap. For he who sows to his flesh will of the flesh reap corruption, but he who sows to the Spirit will of the Spirit reap everlasting life. --- Galatians 6:7,8