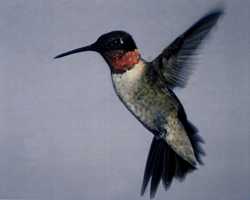 It's the time of year that our humming birds are back and we were ready and waiting. When we had a front porch added to our home, we agreed that it would not be postage stamp size. It's 32 feet long and 12 feet wide with a roof which is supported by six 6 x 6 posts!
We have at least 3 large humming bird feeders suspended on front side of the porch It is always a pleasant and at times an exciting experience to sit on the front porch during fair weather months of the year. Watching the humming birds is better than watching any production coming out of Hollywood!
Just recently we observed 2 of the birds feeding side by side. Once in a while they would pause and then touch those long beaks, tip to tip. Was that the humming bird version of a passionate kiss? Later I saw a ruby throated male preening his feathers -- well, he was trying to anyway! One is pictured above. He's not very big to begin with and then there is that extra long beak that he has to maneuver around for the preening job. But he was making a noble attempt -- he was able to get to some of the outer area of his wings and lower part of his body, but that was it -- quite a bit of his upper body was left untouced -- too much beak and very limited area of body with which to work!
About a day later a wild turkey hen came into our back yard where we have bird feeders and always there is some feed on the ground. She began her usual picking away at cracked corn and then stopped after a bit. It was preening time -- very nimble with a long neck, she started to do her feathers -- all over -- about the only place she couldn't reach was a space about 2 inches or less around her neck -- limitations, you know! But she had a much higher percentage of coverage than the humming bird.
In our faith walk here on earth with trust centered in Jesus Christ as Savior and Lord, one needs to be aware of limitations -- ours, not His! Always one has to be on guard against the temptation to try to do certain things in our own way and relying upon our own strength and resources. It makes for a bad scene every time -- all too easy to forget Paul's statement which applies equally to all of us who claim to follow Jesus Christ -- "I can do all things through Christ who strengthens me." [Philippians 4:13].
In a sense, we are called to be involved in spiritual "preening" -- part of the definition given in the dictionary for this activity is "cleaning the feathers." God wants His people to be clean -- preened, if you will, of all sin. But the moment we tend to forget our limitations, then sin begins to accumlate in numerous ways. The Corinthians were told at one point that they were badly messed up due to sin in their lives -- but they had been cleansed and forgiven -- here is how it is described:

Do you not know that the unrighteous will not inherit the kingdom of God? Do not be deceived. Neither fornicators, nor idolaters, nor adulterers, nor homosexuals, nor sodomites, nor thieves, nor covetous, nor drunkards, nor revilers, nor extortioners will inherit the kingdom of God. And such were some of you. But you were washed, but you were sanctified, but you were justified in the name of the Lord Jesus and by the Spirit of our God. --- 1 Corinthians 6:9-11

An aside here -- does this statement make Paul one of those persons afflicted with "homophobia" such as we hear so often about these days, outside as well as inside the church -- you know, if you don't condone same-gender coupling then you are homophobic and a hater of those who practice that particular way of life!
A humming bird on our front porch and a wild turkey hen in our back yard remind me that I do have limitations, and have to be constantly on guard lest I forget that -- the wild turkey may have thought she did a good job of preening, but even she had limitations!


"Beware that you do not forget the LORD your God by not keeping His commandments, His judgments, and His statutes which I command you today, lest; when you have eaten and are full, and have built beautiful houses and dwell in them; and when your herds and your flocks multiply, and your silver and your gold are multiplied, and all that you have is multiplied; when your heart is lifted up, and you forget the LORD your God who brought you out of the land of Egypt, from the house of bondage; who led you through that great and terrible wilderness, in which were fiery serpents and scorpions and thirsty land where there was no water; who brought water for you out of the rock of flint; who fed you in the wilderness with manna, which your fathers did not know, that He might humble you and that He might test you, to do you good in the end; then you say in your heart, 'My power and the might of my hand have gained me this wealth.' And you shall remember the LORD your God, for it is He who gives you power to get wealth, that He may establish His covenant which He swore to your fathers, as it is this day. --- Deuternonomy 8:11-18