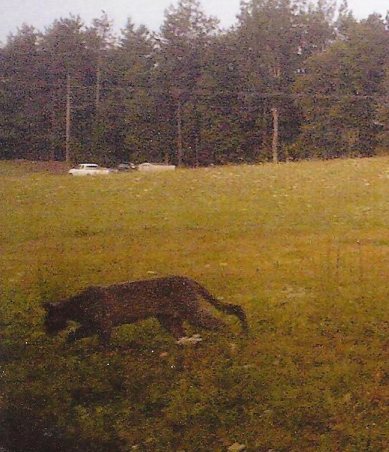 Picture taken on August 18, 2010 at 6:40 AM near Smithport PA
Yes, that is what it is -- there is no way you can mistake this one for grandma's little tabby cat she keeps with her in the house! Besides, think of the size of litter box you would have to have if you kept the one in the picture in the house -- granted, it would probably make a good guard cat, if it accepted you as being friendly!
Anyway, a family in our church at Gipsy set up a trail camera and surprise, surprise, surprise, as Gomer Pyle would say -- one morning in August this fellow got his picture taken. In our area a number of people are using these special cameras with sensors in order to get pictures of game such as deer, bear, etc. Deer hunters are especially interested to see if any sizable buck deer with trophy racks are in the area.
Now it has been said that the Pennsylvania Game Commission denies that any mountain lions are in our Commonwealth. Such evidence as the above photo would bring a response something like this -- "Well, that one is just passing through!" Oh, really -- let's see now -- there are a lot of miles in any direction from this cat to a Pennsylvania border! Some of us have concluded that the PA Game Commission is about as bad politically as those guys who are supposed to represent us in Harrisburg but really do not!
It is not all that uncommon anymore to hear of denials of one kind or another. Denying the existence of a mountain lion in central Pennsylvania will not mean the end of the world is about to happen and certainly our welfare is not dramatically affected by someone supposedly in authority saying the creature ain't when in reality it indeed is!
But there are other kinds of denials that not only have an impact in time but more importantly -- for eternity! There are persons who down through history have denied the existence of God and they have had a negative influence on the lives of some people. But worse than this are those persons who claim to be clergy and in positions of pastoral leadership who deny basic truths as revealed in God's Word, the holy Scriptures!
The war has been raging for quite some time. Many of the denials have to do with Jesus Christ, the Son of God, Who became the sacrifice for the sins of the human race so that each one of us could be totally forgiven of every offense of which we are guilty and live in Jesus' Kingdom forever.
Some of the denials involve Jesus' miraculous birth (born of a virgin and having no human father), His sinless life, His atoning sacrifice for the sins of every human being, His literal resurrection from the dead three days after crucifixion, His ascension back to Heaven where He now sits at the right hand of God the Father, and His promised return to this world again at some point in the future to take control and rule forever!
What the deniers cannot ever explain is the miracle of change that has taken place in the lives of the few of us who have received Jesus Christ into our lives as Savior and Lord, the assurance we have each day of Jesus' presence with us, and the rock solid assurance that death simply involves our leaving this world with all its chaos behind and moving into the presence of our Lord in a perfect environment where pain, trouble, and sorrow do not exist!
Here, Kitty, Kitty! Are you real or just a figment of some camera's imagination?

If we receive the witness of men, the witness of God is greater; for this is the witness of God which He has testified of His Son. He who believes in the Son of God has the witness in himself; he who does not believe God has made Him a liar, because he has not believed the testimony that God has given of His Son. And this is the testimony: that God has given us eternal life, and this life is in His Son. He who has the Son has life; he who does not have the Son of God does not have life. --- 1 John 5:9-12