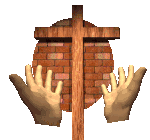 Then He said to them all, "If anyone desires to come after Me, let him deny himself, and take up his cross daily, and follow Me. For whoever desires to save his life will lose it, but whoever loses his life for My sake will save it. For what advantage is it to a man if he gains the whole world, and is himself destroyed or lost?".......... "If anyone comes to Me and does not hate his father and mother, wife and children, brothers and sisters, yes, and his own life also, he cannot be My disciple. And whoever does not bear his cross and come after Me cannot be My disciple." --- Luke 9:23-25; 14:26, 27

Huge numbers of people consider a bunch of resolutions upon launching into a new year. Even Christians consider how they may do some things diferently as they start off a new year. 2008 will certainly be no exception.
How about adopting the following conviction as powerfully expressed by an African pastor two years ago?

December 31, 2005

I'm part of the fellowship of the unashamed. I have Holy Spirit power. The die has been cast. I have stepped over the line. The decision has been made. I'm a disciple of His. I won't look back, let up, slow down, back away, or be still.

My past is redeemed, my present makes sense, my future is secure. I'm finished with low living, sight walking, small planning, smooth knees, colorless dreams, tamed visions, mundane talking, cheap living, and dwarfed goals.

I no longer need pre-eminence, prosperity, position, promotions, plaudits, or popularity. I don't have to be right, first, tops, recognized, praised, regarded, or rewarded. I now live by faith, lean on His presence, walk by patience, lift by prayer, and labor by power.

My face is set, my gait is fast, my goal is heaven, my road is narrow, my way rough, my companions few, my guide reliable, my mission clear. I cannot be bought, compromised, detoured, lured away, turned back, deluded or delayed. I will not flinch in the face of sacrifice, hesitate in the presence of the adversary, negotiate at the table of the enemy, ponder at the pool of popularity, or meander in the maze of mediocrity.

I won't give up, shut up, let up, until I have stayed up, stored up, prayed up, paid up, preached up for the cause of Christ. I am a disciple of Jesus. I must go till He comes, give till I drop, preach till all know, and work till He stops me. And when He comes for His own, He will have no problems recognizing me - my banner will be clear!

Anonymous African Pastor – Statement Nailed to his wall.

This is a most challenging statement and leaves no doubt as to where this Christian stands, does it not? It requires more than a tad of soul searching for us who are used to soft living in these United States and where at times we may drift all too easily into a Laodicean way of life in our profession of being Christian in our faith! (Read through Revelation 3 for more defined details about the Laodicean way!).
I suggested to the members of my congregation this past Sunday, December 30th, that we place the above statement in our Bibles and that we intentionally read it time after time as we move through 2008.
If you are not a Christian, the above statement as well as the quote from Jesus at the very beginning has absolutely no meaning to you whatsoever. But that can be changed by a deliberate decision on your part. Review
How to Become a Christian!
-- a link at the bottom of that area will bring you back to this place. If you have questions please email me at
cdharriger@hotmail.com
Don't forget
.....only a Christian can live each day with the assurance of ALL sins forgiven, the living presence of Jesus with him/her, and in possession a solid hope for the future -- not just in terms of time, but for all eternity!

Behold what manner of love the Father has bestowed on us, that we should be called children of God! Therefore the world does not know us, because it did not know Him. Beloved, now we are children of God; and it has not yet been revealed what we shall be, but we know that when He is revealed, we shall be like Him, for we shall see Him as He is. And everyone who has this hope in Him purifies himself, just as He is pure. --- 1 John 3:1-3