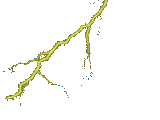 But it shall come to pass, if you do not obey the voice of the LORD your God, to observe carefully all His commandments and His statutes which I command you today, that all these curses will come upon you and overtake you: Cursed shall you be in the city, and cursed shall you be in the country. Cursed shall be your basket and your kneading bowl. Cursed shall be the fruit of your body and the produce of your land, the increase of your cattle and the offspring of your flocks. Cursed shall you be when you come in, and cursed shall you be when you go out. --- Deuteronomy 28:15-19

Should obedience to God be a top priority national issue or not? On such a question as this, the overwhelming response is bound to be an excessively loud "No!" -- so loud that vocal cords are strained to the maximum, windows might shatter, and walls quiver as though an earthquake is starting to crank up!
Much of the negative response would be interspersed with cries of "We need to maintain the 'wall' of separation of church and state!" It is true that some in their ignorance have abused, misused, perverted and distorted a statement attributed to Thomas Jefferson about this thing of "separation" of church and state. As many influential people bought into this deceptive doctrine we have opened a Pandora's Box resulting in court decisions being handed down that are paving the way to a disaster which we cannot begin to imagine due to the magnitude of it all!
In effectively drawing a boundary line around all government functions and our public school systems we as a nation have given God an obscene gesture and told Him those properties and all that goes on within those confines by all persons involved are strictly off limits -- He dare not set foot in those forbidden areas!
With such a development, anyone with a touch of common sense, the ability to do some serious thinking and possessing a spiritual sensitivity to God's special revelation will quickly recognize that a culture which has its beginning rooted in that special revelation given by our Creator will ultimately experience calamities beyond human ability to understand when the majority of its citizens and leaders (political and church) choose to deliberately defy Him!
Deuteronomy 28 is one of the clearest points of reference on the issue as to whether obedience to God is simply an option or an absolute must if blessing, future security and survival are to be experienced.
In light of recent financial chaos among other things which this nation has been experiencing and the feeble efforts to try to "stabilize" financial activity, perhaps a look at one small portion of what God promised by way of calamity due to disobedience -- seems that "aliens" will become involved:

The alien who is among you shall rise higher and higher above you, and you shall come down lower and lower. He shall lend to you, but you shall not lend to him; he shall be the head, and you shall be the tail. Moreover all these curses shall come upon you and pursue and overtake you, until you are destroyed, because you did not obey the voice of the LORD your God, to keep His commandments and His statutes which He commanded you. --- Deuteronomy 28:43-45

There are any number in the interesting group of theologians, seminary & college professors, pastors and teachers who would insist that Deuteronomy 28 has absolutely nothing to do with the United States -- but then again, if you take some of that bunch seriously, the Bible doesn't have much to do with any of us one way or another -- we live in a time of "buffet religion" -- pick and choose what suits your fancy in religious matters, or for that matter, if you don't want to relate to any religion, that's OK too!
So, if you are not afraid to do so -- take a slow walk through Deuteronomy 28 -- maybe repeat a couple of times and consider whether at any given time when a nation has had access to God's special revelation ever since its beginning over 231 years ago, that such a nation is responsible (leaders & citizens) to be obedient to Him in all manner of behavior and relationships!
Further, one might consider God's personal statement in regard to His claim to bring down a nation for massive disobedience or to establish such a nation on condition of its obedience to Him.
And to what extent are all those "wannabe" president people really addressing this, the most critical issue our republic has ever faced in its entire history? And can anyone say our republic is now healthier, ethically, morally and spiritually stronger than in those days before God was confronted with "No Trespassing" signs as applied to His presence on government property and in public schools? We all know the answer to that one, do we not?

"The instant I speak concerning a nation and concerning a kingdom, to pluck up, to pull down, and to destroy it, if that nation against whom I have spoken turns from its evil, I will relent of the disaster that I thought to bring upon it. And the instant I speak concerning a nation and concerning a kingdom, to build and to plant it, if it does evil in My sight so that it does not obey My voice, then I will relent concerning the good with which I said I would benefit it." --- Jeremiah 18:7-10