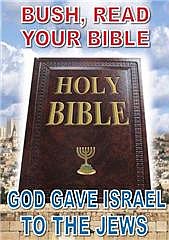 Now the LORD had said to Abram: "Get out of your country, from your family and from your father's house, to a land that I will show you. I will make you a great nation; I will bless you and make your name great; and you shall be a blessing. I will bless those who bless you, and I will curse him who curses you; and in you all the families of the earth shall be blessed.".... Then the LORD appeared to Abram and said, "To your descendants I will give this land." And there he built an altar to the LORD, who had appeared to him.

And the LORD said to Abram, after Lot had separated from him: "Lift your eyes now and look from the place where you are; northward, southward, eastward, and westward; for all the land which you see I give to you and your descendants forever. And I will make your descendants as the dust of the earth; so that if a man could number the dust of the earth, then your descendants also could be numbered. Arise, walk in the land through its length and its width, for I give it to you."
--- Genesis 12:1-3, 7; 13:14-17

Things are heating up in certain areas of the Middle East as President Bush prepares to spend some time going from place to place.
A number of persons and groups are upset with Bush due to the push on his part to have a Palestinian "state" created. In Bush's mind, as well as in the minds of the members of his administration, this is the way to resolve the ongoing conflict and bring about peace. Even a number of high profile professed "evangelicals" have jumped on the band wagon and given their endorsement to this venture!
The poster above makes an appeal that Bush, who attempts to identify with "evangelicals," ought to read his Bible on this issue. The covenant which God made with Abraham makes reference to a land which Abraham's descendants are to be given -- a few of us still believe that God is the owner of everything and can choose what He wants to give and to whom it will be given at any time that He determines! The earlier statements as noted above do not mention any boundaries. That comes a bit later -- take a bit of time to ponder on the western and eastern boundaries as God most clearly defines them:

On the same day the LORD made a covenant with Abram, saying: "To your descendants I have given this land, from the river of Egypt to the great river, the River Euphrates; the Kenites, the Kenezzites, and the Kadmonites; the Hittites, the Perizzites, and the Rephaim; the Amorites, the Canaanites, the Girgashites, and the Jebusites." --- Genesis 15:18-21

Now there has been a lot of "song & dance" routines over the centuries about how that is to be interpreted and in most cases it seems that the covenant God made with Abraham and territory promised doesn't mean anything any longer. We are to focus on the "church" and matters related to it and quit discussing anything that pertains to the Jews, etc!
Another thing to bear in mind that the covenant was renewed with Isaac and later with Jacob. Abraham's son, Ishmael, who was born to the handmaid, Hagar, was also mentioned by God. Ishmael's descendants would become a great nation, but no territory is mentioned in connection with that promise as in the case of Abraham's son, Isaac! The Arab peoples are large in number today but actually have no claim to territory as do the descendants of Abraham through his son, Isaac. The Arabs presently occupy a large segment of land in the Middle East, but that will be changed one of these days -- Jesus Christ, the Son of God (and Messiah), will see to that at a time He has predetermined.
Jesus made some reference to this issue in a couple of statements such as:

"There will be weeping and gnashing of teeth, when you see Abraham and Isaac and Jacob and all the prophets in the kingdom of God, and yourselves thrust out. They will come from the east and the west, from the north and the south, and sit down in the kingdom of God. And indeed there are last who will be first, and there are first who will be last." --- Luke 13:28-30

So Jesus said to them, "Assuredly I say to you, that in the regeneration, when the Son of Man sits on the throne of His glory, you who have followed Me will also sit on twelve thrones, judging the twelve tribes of Israel." --- Matthew 19:28

Israel has been pressured time and time again to give in and yield -- the Israelite people are hated and despised by many nations -- listen to the babbling that goes on in that hall of chaos known as the United Nations for graphic truth of this, especially when some issue that involves Israel comes up -- those people are always the bad guys!
And it appears that United States support is beginning to waver more and more -- listen to Secretary of State, Condoleeza Rice, expound on the issue!
Another poster will also greet President Bush as he makes his way through certain locations in the Middle East -- it has upset a lot of people, but is it really all that far off base?
Now is the time for Christians to be searching the promises that pertain to God's restoration of Israel, the humiliation of Gentile nations, the future glory of Israel and the city of Jerusalem. What has to be resolved is this -- does God really mean what He says, and does He keep all His promises?
And a prayer on this matter coming right out of the Bible is good to keep always in mind as well as practicing what is suggested:

Pray for the peace of Jerusalem: "May they prosper who love you. Peace be within your walls, Prosperity within your palaces." For the sake of my brethren and companions, I will now say, "Peace be within you." Because of the house of the LORD our God I will seek your good. --- Psalm 122:6-9

And how about this promise -- or has God changed His mind, and we can just write this one off as being no longer in effect -- but then, if that is the case, can we really believe God for anything at all?

For Zion's sake I will not hold My peace, and for Jerusalem's sake I will not rest, until her righteousness goes forth as brightness, and her salvation as a lamp that burns. The Gentiles shall see your righteousness, and all kings your glory. You shall be called by a new name, which the mouth of the LORD will name. You shall also be a crown of glory in the hand of the LORD, and a royal diadem in the hand of your God. You shall no longer be termed Forsaken, nor shall your land any more be termed Desolate; but you shall be called Hephzibah, and your land Beulah; for the LORD delights in you, and your land shall be married. For as a young man marries a virgin, so shall your sons marry you; and as the bridegroom rejoices over the bride, so shall your God rejoice over you. I have set watchmen on your walls, O Jerusalem, who shall never hold their peace day or night. You who make mention of the LORD, do not keep silent, and give Him no rest till He establishes and till He makes Jerusalem a praise in the earth. --- Isaiah 62:1-7

By the way, for more details on what God has promised regarding Israel and Jerusalem, see
O Jerusalem, What a Surpise Is in Store for You!
A link at the bottom of that area will bring you back to this place.