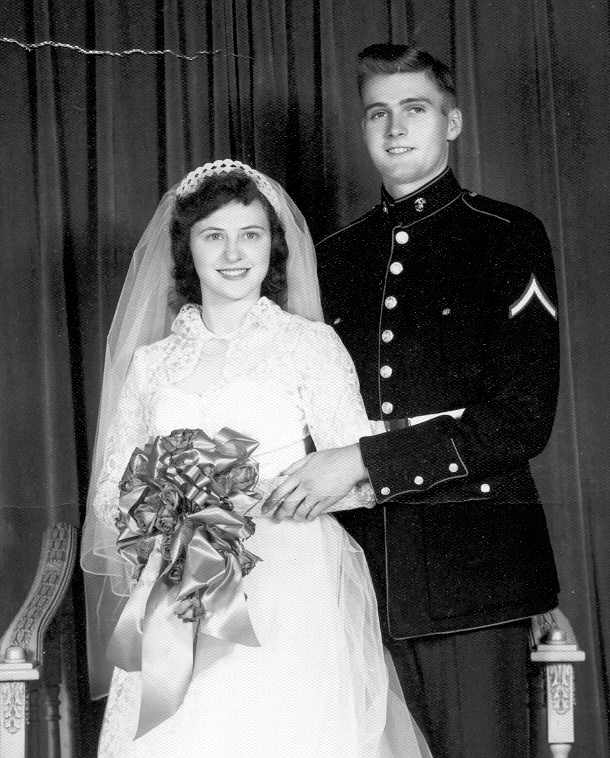 Clayton (age 19) and Jean (age 17) (Botzer) Harriger - June 13, 1953

Let your fountain be blessed, and rejoice with the wife of your youth. As a loving deer and a graceful doe, let her breasts satisfy you at all times; and always be enraptured with her love....... He who finds a wife finds a good thing, and obtains favor from the LORD. --- Proverbs 5:18, 19; 18:22

Yes, it's true -- as of today, Jean and I have been honeymooning for 55 years! No, it's not been a quick get-away to Hawaii or Acapulco or wherever the so-called "romantic" places are found that are associated with honeymoon travel packages. But our love for each other is such as I attempt to tell couples who want me to do their marriage ceremonies -- love for one another is somewhat like a rosebud -- not yet fully matured, but as time passes the rose breaks out into full bloom -- in marriage the rose continues to bloom and bloom and bloom (add many more blooms if you want)!
Fifty-five years ago today we violated the standard custom that the groom was not to see his bride before coming down the church aisle to become his wife. Because of a tight schedule between my leaving airman training school near Memphis TN and reporting to Cherry Point Marine Corps Air Station in NC, we had to pick up our marriage license on the day of our marriage at the court house in Kittanning PA -- both of us had to appear to get the license.
It was a hot day, but sunny. The wedding was scheduled for 8:00 PM in the evening mainly because the pastor was at the Methodist Annual Conference in Meadville PA, some miles away. He was 20 minutes late getting to the church -- a frantic pianist was just told to keep playing until he arrived.
Finally the ceremony got underway at Monroe Chapel Methodist Church midway between Clarion and Sligo PA on Route 68. And so a young couple who had been dating for 2 years finally became husband and wife. The rose was still in the budding stage!
We left for NC on Monday, June 15th. We got an apartment in New Bern which was about 20 miles from Cherry Point. Jean got a job at a movie theater close to our apartment. Those who were married and living off base did not have to stay on the base with one exception. I drew 60 days of guard duty in October of '53 and spent 3 days on base with 2 days off each cycle.
Even though we were not Christian at the time, God extended a host of mercies of which we were totally unaware -- we now refer to that as experiencing the prevenient grace of God. We were blessed with a son, Richard, nearly 2 years later at the base hospital.
Many, many stories could be told over that span of time as God in mercy brought us eventually to the place where we saw the need to receive Jesus Christ as Savior and Lord of our lives. Shortly after that came a clear and specific call to preach God's Word in pastoral ministry. Approximately 21 months after Jesus changed our lives, I was appointed to serve two Methodist Churches in New Castle PA.
Out of this marriage union have been born 5 children, 9 grandchildren and 2 great-grandchildren. The Lord willing, on July 19th I will perform the marriage ceremony of a grandson, Andy. That date will also be birthday #1 for our youngest grandchild, Owen. There is quite an age span among the grandchildren -- the oldest will be 28 this coming November and the youngest, Owen, as mentioned, will be 1 year old on July 19th.
It has made for adventure all the way. But the greatest has been facing each day with the firm assurance that we do not ever walk alone -- our Lord is present always to make a way. He has wonderfully blessed us over these many years, in the best of times as well as in those very trying times.
After honeymooning for 55 years, we can still say to each other, "The best is yet to be!"
I'm 100 per cent sold on marriage as God designed it for male and female -- don't try to expand on that -- Jesus didn't, did He?

And He answered and said to them, "Have you not read that He who made them at the beginning 'made them male and female,' and said, 'For this reason a man shall leave his father and mother and be joined to his wife, and the two shall become one flesh'? So then, they are no longer two but one flesh. Therefore what God has joined together, let not man separate." --- Matthew 19:4-6