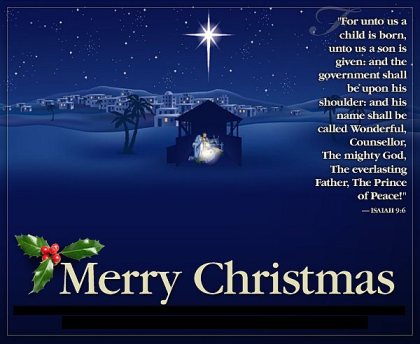 When it comes to wages and benefits in times such as these the major issue often centers on the "benefits" -- what kind of health care benefits are there -- are there eye and dental care provisions -- what kind of pension benefits and how about vacation time -- and how many sick days does one get in a year's time -- can I accumulate them over the years and get paid for the ones I haven't used when I retire? Yes, indeed, there is a lot of preoccupation about the "benefits" and then after settling that, we get into the wage issues.
Sad, but true -- with all the hostility and controversy that now surrounds Christmas along with focusing on the materialistic aspects of life, the Christmas "benefit" package is ignored or flat out rejected by a vast majority of U. S. citizens, not to mention most of this world's 6 billion inhabitants!
A few can testify that the "benefit" package of Christmas beats all the others hands down! Because of God becoming human and visiting this world in the Person of Jesus Christ -- because of His death on our behalf on a Roman cross and because of His victorious resurrection here is what we have by way of benefits:



His peace

- Therefore, having been justified by faith, we have peace with God through our Lord Jesus Christ, through whom also we have access by faith into this grace in which we stand, and rejoice in hope of the glory of God. (Romans 5:1,2).



His presence with us always

- "Go therefore and make disciples of all the nations, baptizing them in the name of the Father and of the Son and of the Holy Spirit, teaching them to observe all things that I have commanded you; and lo, I am with you always, even to the end of the age." (Jesus speaking in Matthew 28:19, 20).



His power

- Therefore, when they had come together, they asked Him, saying, "Lord, will You at this time restore the kingdom to Israel?" And He said to them, "It is not for you to know times or seasons which the Father has put in His own authority. But you shall receive power when the Holy Spirit has come upon you; and you shall be witnesses to Me in Jerusalem, and in all Judea and Samaria, and to the end of the earth." (Acts 1:6-8).



His promises that apply to all areas of our concern

- Grace and peace be multiplied to you in the knowledge of God and of Jesus our Lord, as His divine power has given to us all things that pertain to life and godliness, through the knowledge of Him who called us by glory and virtue, by which have been given to us exceedingly great and precious promises, that through these you may be partakers of the divine nature, having escaped the corruption that is in the world through lust. (2 Peter 1:2-4).



His provisions that are always sufficient

- I can do all things through Christ who strengthens me..... And my God shall supply all your need according to His riches in glory by Christ Jesus. (Philippians 4:13, 19).



His place which He is preparing for His people -- the perfect environment with no negatives as constantly experienced in this present world

- "Let not your heart be troubled; you believe in God, believe also in Me. In My Father's house are many mansions; if it were not so, I would have told you. I go to prepare a place for you. And if I go and prepare a place for you, I will come again and receive you to Myself; that where I am, there you may be also. (Jesus speaking in John 14:1-3). A PS on this one -- can you imagine living in a place where there is perfect peace -- no conflicts of any kind whatsoever -- a place where there are no hospitals, doctors, drug stores, funeral homes and cemeteries -- a place where you have perfect health and no aches and pains -- and where you do not age?

That Christmas "benefit" package makes even the most luxurious ones dreamed up by the biggest corporations in this world quickly shrink into dust by comparison, does it not?
Have a blessed Christmas and rejoice much in the benefits it makes available through the Lord Jesus Christ as you celebrate with family and friends!

"For God so loved the world that He gave His only begotten Son, that whoever believes in Him should not perish but have everlasting life." --- Jesus speaking in John 3:16