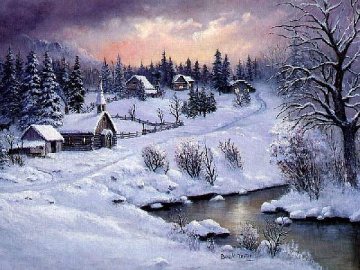 Praise the LORD! For it is good to sing praises to our God; for it is pleasant, and praise is beautiful.... He sends out His command to the earth; His word runs very swiftly. He gives snow like wool; He scatters the frost like ashes; He casts out His hail like morsels; who can stand before His cold? He sends out His word and melts them; He causes His wind to blow, and the waters flow. --- Psalm 147:1, 15-18

Lots and lots of memories about winter over the years -- especially in those growing up years on a farm in Clarion County, Pennsylvania.
My parents made sure my younger sister and I had warm clothing to wear in the winter time. It was a long walk to school. In those years it was common for the younger ones to have what were called "snow suits" -- heavy coats and heavy pullover pants -- sometimes so balky you couldn't walk very well -- the heavy boots added to the problem. And with a heavy cap and heavy gloves or mittens, you were prepared to face the harsh weather of winter!
Many hours were spent outside, especially if we had lots of snow and/or ice. Skating on the local creek was a favorite activity. We didn't have ice skates -- we just took a run onto the ice and then slid for a few feet. Sometimes we would take the boots off and the soles of our shoes made it possible to really slide with the risk of getting off balance and falling. More than one of us knew the experience of falling and hitting the back of our heads on the ice -- a very painful moment!
And there were the sled riding times. The ideal which didn't happen too often was when we got snow, then some rain to wet it down and then a deep freeze which formed a hard crust on the surface. I can remember one time on our fields on a hillside we could go like it seemed forever before getting off the sled and going back to the top for another adventurous ride!
Jean and I had a more updated and modern experience of this a few years back. We had gotten our son a Honda 185 3-wheeler for Christmas (that was before the government which is determined to save us from ourselves decided that 3-wheelers were too dangerous and forced the manufacturers to quit making them!). Anyway, we had a crust factor for ideal sledding. So near our parsonage was a long slope -- one of us would ride the sled down and the other would take the 3-wheeler down and pick up the rider and tow the sled back to top of the slope -- we took turns doing this and had a blessed time, later topped off with hot chocolate!
Another memory of winter time in those early years -- our "menu" prepared by my mother for our meals. One of the main staples was buckwheat cakes with home made syrup. The cakes were made from pure ground buckwheat flour and the batter was started with yeast -- they didn't smell very good, but they sure tasted good. We had them for breakfast and often for supper as well. Mom would just add some flour on a regular basis plus the other ingredients as needed. We usually started having them in November (as soon as flour was available) and went through to spring time). Sausage from our butchered hogs was also a part of the meal with the buckwheat cakes. My dad would not eat syrup on his -- he said that spoiled them -- my mother would make a type of sausage broth which he would put on his cakes.
I have made those same buckwheat cakes and have some going at the present time. But I keep the batter in the refrigerator so they don't get away from me -- if they do, they get too strong due to fermenting. Because we ate them constantly at home, my mom let the batter set out in a crock on the kitchen counter. Before my dad went to be with the Lord he came down for a visit with us and I had started a batch of buckwheat cakes some time earlier. I served him some and received what I considered a very kind compliment -- he said, "They are almost as good as your mother's!"
I did have an adventure one time a few years back in getting the buckwheat cakes started. I start with flour, buttermilk, yeast, water and salt. I mixed them up in a bowl and we left for Bible study. Jean said I had better put a pan under the bowl in case the cake batter raised and ran over. I said they won't do that much till we get back. When we got home there was buckwheat cake batter running all over the counter and the floor -- that stuff had really taken off and guess who said, "I told you so!"
There were times in winter that the road conditions were pretty bad. One of the worst I remember was back in about 1944 or so - we had a storm that dumped about 3 feet or so of snow on us. My dad was working for the New York Central Railroad at that time. He usually drove to work about 3 miles away but that day he walked it in order to get the tracks cleared -- trains had to keep running in those days of WW II. I can still remember seeing his footprints in that deep snow. It was quite a while before our roads were opened because of bad drifting where there were cuts and embankments as high as 10 feet or so along the roadways.
A later incident in winter involved Jean and me when we were dating. I was to take her to her sister's place to stay. Lots of snow on the roads and I had a '51 Ford with an overdrive transmission which caused it to be about as helpless as anything could be on winter roads. I had put the chains on the back wheels and we were trying to get up a very steep hill with the Ford pawing around like crazy and then it threw one of the chains off! Where that chain went I had no way of knowing -- so we made it back to my home just a short distance away and Jean spent the night at my house. Her family did not have a phone yet, so we could not call and tell them what happened. Ooooh! When her mom found out what happened, it was like a tornado, blizzard and hurricane all wrapped up in one big blast! She thought the worst -- but I slept in my bed and Jean slept with my sister that winter night! This is a bit delicate -- but in spite of the pressures and temptations of 2 years of dating, we were never intimate until our wedding night! These days such a thing is considered odd, strange and practically unheard of. Much more could be said about the radical change regarding sexual behavior over the years but that has been dealt with in some of my other blogs and in areas of my web site.
Our Christmas times were always wonderfully blessed. Even in those early years when we did not have electricity. Our tree was always decorated with a sense of great excitement and there were always some gifts there on Christmas morning in spite of the fact that we would be considered to be in the poor class of people.
Then came the year we moved into a home with electricity and my mother got a string of Noma electric lights for the tree. What excitement that year -- it had 7 bulbs on it, but you would have thought by looking into the faces of my sister and me that the tree had a thousand lights on it!
Ah, those were the days -- life was so much simpler then and filled with values as revealed in God's holy Word -- winter time, spring time, summer time, and fall -- those were indeed times of blessing with many precious memories.
On my previous post to this one I mentioned about having a pleasant interlude by going to a web site where you can view a series of paintings by a very talented artist named Robert Duncan. We have some of his paintings of winter scenes. If you haven't viewed these, by all means go to
Winters of Long Ago
. It will be worth the time to do so. You will be blessed and it will be a pleasant interlude! Please use return feature on your web browser if you wish to return to this place.
Have a most blessed and wonderful Christmas experience this year as we celebrate the birth of our Lord Jesus -- the only One Who offers forgiveness, peace and hope to a sin-saturated world of over 6 billion people!

Purge me with hyssop, and I shall be clean; wash me, and I shall be whiter than snow. --- Psalm 51:7