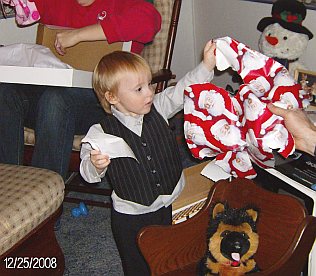 Then the word of the LORD came to me, saying: "Before I formed you in the womb I knew you; before you were born I sanctified you; and I ordained you a prophet to the nations." --- Jeremiah 1:4, 5

His name is Owen and he reached the age of 1 year on July 19, 2008, the same day as a much older 1st cousin of his was getting married with the wedding being performed by his grandfather. The grandchildren on his father's side of the family have quite a span in age – the oldest of the 9 grandchildren is 28 years old with Owen being the youngest.
Above you see Owen getting into one of his Christmas presents at his grandparents' home on Christmas Day, 2008. It was an exciting time for him. He is a very adventurous little guy and always on the go. For him there is a big world out there to investigate. It is agreed in the family that he doesn't like to be held in anyone's arms – he has to be let down on the earth or the floor in a home – his legs are already churning in high gear when he hits the surface and off he goes! His grandmother H. already has confessed that she cannot keep him by herself – the reason is very simple – she says, "I could never keep up with him to make sure he doesn't get into something he shouldn't!"
But on to more serious matters in light of the question asked above about whether Owen and many others his age have anything to which to look forward as they grow up in what used to be a nation of some standards and principles.
Right now Owen could not care less who is president or who is going to be president – what persons comprise the U. S. Congress – what persons come forth with judicial decisions which more often than not cause further erosion of the moral and spiritual fabric of our republic.
At the age of 1 ½ years he will not be aware that the most pro-death administration in the history of our country will take control on January 20, 2009. Further, at this point in time he is unaware that the republic is unraveling at the seams due to its lack of respect for human life, its deeply entrenched idolatry, its pandemic sexual immorality, and its lack of respect for the one day in the week in which Almighty God is to be honored and worshipped. Also, he will likely be exposed to a deadly teaching in his young years in a public school system which attempts to brainwash us into believing that we humans have evolved from lower life forms.
However, within his family will be teaching and training that will counter the aforementioned stuff. He will be made aware that God also knew him before he was conceived in his mother's womb as was the case with a man by the name of Jeremiah. He will be learning that through Jesus Christ there is a wonderful plan and purpose for his life.
And he will be made aware that human governments are unreliable and that we dare not place our hope and expectations for the future in elected officials – they will disappoint us constantly because they fail to face the root problem of the human race and therefore cannot provide satisfactory solutions to human problems – the most serious one has to be dealt with first.
Most important of all he will be informed that God has shown us that the human race will do a devastating repeat of those chaotic times in which Noah lived before the judgment of the flood and conditions with which Lot contended when he and his family lived in Sodom. But this is counter balanced by the possession of what the Scripture says is the "blessed hope" – a hope that centers in the personal return of Jesus Christ to this earth to set up His Kingdom and rule it forever!
No, he doesn't have much to which to look forward so far as the future prospects of this country and the world at large are concerned, but he does have much by way of hope and purpose in living when his faith is centered in Jesus Christ as Savior, Lord and our soon returning King! And so it is for every person who chooses to march to the beat of a very different Drummer in times such as these!

And Jesus answered and said to them: "Take heed that no one deceives you. For many will come in My name, saying, 'I am the Christ,' and will deceive many. And you will hear of wars and rumors of wars. See that you are not troubled; for all these things must come to pass, but the end is not yet. For nation will rise against nation, and kingdom against kingdom. And there will be famines, pestilences, and earthquakes in various places. All these are the beginning of sorrows. Then they will deliver you up to tribulation and kill you, and you will be hated by all nations for My name's sake. And then many will be offended, will betray one another, and will hate one another. Then many false prophets will rise up and deceive many. And because lawlessness will abound, the love of many will grow cold. But he who endures to the end shall be saved. --- Matthew 24:4-13