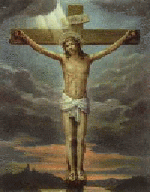 "If the world hates you, you know that it hated Me before it hated you. If you were of the world, the world would love its own. Yet because you are not of the world, but I chose you out of the world, therefore the world hates you. Remember the word that I said to you, 'A servant is not greater than his master.' If they persecuted Me, they will also persecute you. If they kept My word, they will keep yours also. But all these things they will do to you for My name's sake, because they do not know Him who sent Me." --- Jesus in John 15:18-21

If those of us who claim to trust Jesus Christ as Savior and Lord are faithful in obeying Him in the every day experiences of life, then we can anticipate more hostility and hatred to be directed toward us during the year of 2009.
The primary problem about this is two-fold. First, for some reason there are professing Christians who seem to want to side step the statements Jesus made which guaranteed that we would be the targets of persecution throughout the world as time marches on before He personally returns to this world.
Secondly, the pressure has never been greater for Christians to compromise to a level where they cease insisting on the exclusiveness of the Christian message of salvation and hope, and that Jesus Christ is the only way by which we can be forgiven, have peace with God and eventually be a citizen in His eternal Kingdom after we have finished our life's journey here on earth.
Faithfulness to Jesus demands that we be involved in His parting command to confront the entire world with His claim and call upon every human being. That most clearly involves in part a call to repent of all sin (including the following of any false religion outside of Christianity) and receive Jesus Christ as Savior and Lord. It takes a long, long stretch to try to interpret Jesus' parting command to mean something other than what He literally said we are to do – slowly look at those words:

Then Jesus came and spoke to them, saying, "All authority has been given to Me in heaven and on earth. Go therefore and make disciples of all the nations, baptizing them in the name of the Father and of the Son and of the Holy Spirit, teaching them to observe all things that I have commanded you; and lo, I am with you always, even to the end of the age." --- Matthew 28:18-20

Now, tell me – what else can this command mean other than the fact that we are to do as He said and let all people in the world know about Who He is, what He did while here on earth (which includes His sacrificial death for the sins of the entire human race and literal resurrection from the dead after that), what He plans to do in the future and what He wants us to be about while we are still here on earth?
Plus, if we are faithful to Him it means also that in identifying Him throughout the world we will be certain to refer to His "I am…" statements that clearly exclude other "big name" religious personalities from offering anything that doesn't even come remotely close to what He offers the members of the human race. And then there are those four absolute demands He places on each member of the human family such as "Except you are born again…" etc.
An honest assessment of these things helps us to see why our faithfulness to Him Who is labeled King of kings and Lord of lords will intensify the hostility and hatred that will come forth from those who have chosen to walk in spiritual darkness rather than light.
Always remember – at a certain point God's revelation uses the terms "few" and "many" in describing the way the human race is separated – the "many" have chosen to reject God's revelation and consequently in so doing, have rejected His Son, Jesus, as the only possible way to be forgiven and restored to a favorable relationship with the Creator. The "few" are the small number who have learned about Jesus Christ, have repented of their sins, have received Him by faith into their lives as Savior and Lord, and are resolved to faithfully serve Him the remaining time they have on earth. These ought not to think it strange when they are scorned, ridiculed and in some locations violently persecuted because of being identified with Him in the year 2009.
The United States is no exception to such hostility against true expressions and witness regarding the Christian faith!

"Blessed are you when men hate you, and when they exclude you, and revile you, and cast out your name as evil, for the Son of Man's sake. Rejoice in that day and leap for joy! for indeed your reward is great in heaven, for in like manner their fathers did to the prophets." --- Jesus in Luke 6:22, 23

"Then they will deliver you up to tribulation and kill you, and you will be hated by all nations for My name's sake. And then many will be offended, will betray one another, and will hate one another. Then many false prophets will rise up and deceive many. And because lawlessness will abound, the love of many will grow cold. But he who endures to the end shall be saved." --- Jesus in Matthew 24:9-13